Film series: Filming Jewish Life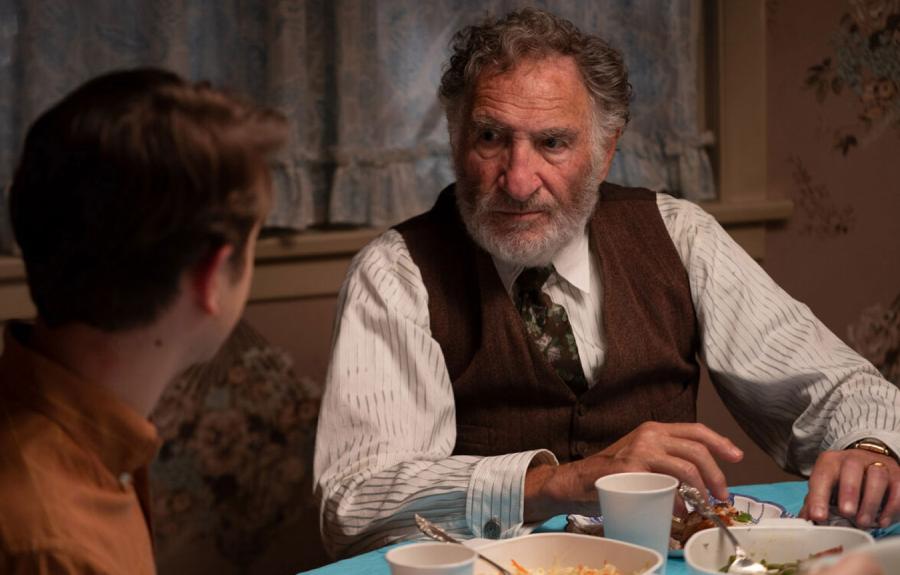 Celebrating the 50th Anniversary of Jewish Studies at Cornell
This series celebrates the 50th Anniversary of Jewish Studies at Cornell University as well as the launch of a new undergraduate major starting in Fall 2023. It features three recent films—a historical drama, a dark comedy, and a Hollywood epic—that reflect the plurality and rich diversity of traditional and contemporary Jewish life.
The series begins with SHTTL (2022), a visually dynamic portrait of a Yiddish Ukrainian village at the border of Poland, set in 1944 just 24 hours before the Nazi invasion, known as Operation Barbarossa. When a young filmmaker (Moshe Lobel) returns from Kyiv to his rural village to marry the love of his life, who is also the Rabbi's daughter, his reappearance disrupts the social balance of the whole town. The film at once brims with the vitality, politics, rumors, and romance of everyday life in the 'shtetl' and communicates a sense of imminent danger—a feeling that is perhaps heightened by our knowledge of the current war in Ukraine. 
Filmed in Ukraine and in a single, unflinching shot, SHTTL presents a day in the life of a Jewish village before it disappears. Today, there are no such villages in existence; the production fully reconstructed a traditional "shtetl" outside of Kyiv. Following the filming, the set was to be turned into a museum but has since been destroyed in the ongoing political crisis between Russia and Ukraine. Lead actor Moshe Lobel will join in-person for a post-screening conversation about the making of this extraordinary and timely film. 
Next, we shift to a more local exploration of Jewish identity with Tahara (2020), a debut feature from filmmaker Olivia Peace. Written by Rochester-native Jess Zeidman and shot at Temple Beth El in Rochester, Tahara is an acerbic teen comedy about unrequited crushes, toxic friendships, and wavering faith. When their former Hebrew school classmate commits suicide, best friends Carrie (Madeline Grey DeFreece) and Hannah (Rachel Sennott) attend her funeral and the "teen talk-back" session hosted by their local synagogue, designed to be an opportunity for them to understand grief through Judaism. However, Hannah is more interested in impressing her crush, Tristan. When she convinces Carrie to practice kissing with her, this intimate moment unlocks feelings that turn Carrie's world upside down. The film's title refers to the sacred ritual of caring for and preparing the deceased's body for its final rest in a Jewish burial ceremony.
Finally, the series concludes with Steven Spielberg's semi-autobiographical epic, The Fabelmans (2022). Inspired by his own childhood and acclaimed as his most personal film to date, Spielberg's latest film is a coming-of-age story about a young man uncovering a shattering family secret and discovering the power of film and imagination to help us see the truth about ourselves and each other. With a star-studded cast featuring Michelle Williams (Manchester by the Sea, My Week with Marilyn), Paul Dano (The Batman, There Will Be Blood), Seth Rogen (Steve Jobs, An American Pickle), Gabriel LaBelle (The Predator, "American Gigolo") and Academy Award® nominee Judd Hirsch (Uncut Gems, Ordinary People), The Fabelmans is a timeless tale of heartbreak, healing, and hope for the dreamer inside all of us.
This series is sponsored by the Jewish Studies Program at Cornell University and presented in collaboration with Cornell Cinema.
Featuring: 
SHTTL
Tuesday, April 25 at 7pm
Directed by Ady Walter (2022, France and Ukraine)
Featuring Q&A with lead actor Moshe Lobel and Cristina Florea, Assistant Professor of History at Cornell!

Tahara
Wednesday, April 26 at 7pm
Directed by Olivia Peace (2020, United States)

The Fabelmans
Thursday, April 27 at 7pm
Directed by Steven Spielberg (2022, United States)
Featuring introduction by Elliot Shapiro, Senior Lecturer in the Knight Institute and the Knight Foundation Director of the Writing in the Majors Program at Cornell
Other film series this semester
Related films