Nights of Cabiria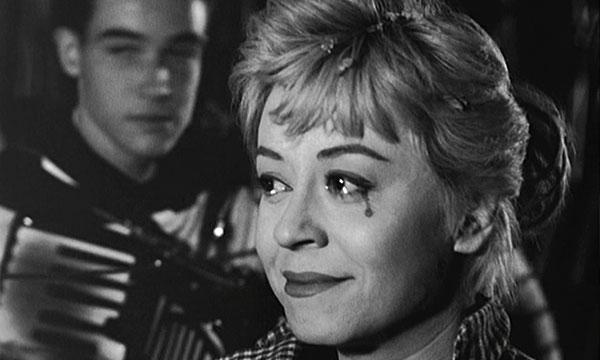 A brilliant digital restoration of one of Fellini's early classics, this Academy Award winning portrait of the underside of Roman decadence features the "spectacularly expressive" Giulietta Masina playing a prostitute who hopes in vain for a better life. The restoration recently premiered at Film Forum in NYC and we credit them for the following description:
"Fellini's showcase for Masina—inspired by her character's brief appearance in his solo debut feature The White Sheik—is structured as a series of episodes ("each apparent irrelevance falls into place" – Kael): robbed of her purse and dumped into the river by her pimp boyfriend, she responds with earthy scorn (the authentic Roman epithets courtesy Pier Paolo Pasolini) by throwing his things into a bonfire; a famous movie star (played by Italian screen heartthrob Amedeo Nazzari) picks her up in a nightclub and whisks her away to his ridiculously luxurious villa; her encounter with a man with a sack, who delivers food and supplies to destitute Romans living in holes in the ground (a 7-minute scene cut by producer Dino de Laurentiis and not seen until it was put back by Rialto Pictures in 1998); a tear-drenched pilgrimage to a religious shrine undertaken with the hookers, pimps, and cripples that make up her world; and her romance with an understanding accountant (French star François Périer, the club owner in Melville's Le Cercle Rouge)—but there's a final devastating disillusion, followed by a resurgence that may be the most mysteriously magical shot in all of Fellini's work.
"Nights of Cabiria won the Academy Award for Best Foreign Language (which Fellini's La Strada had won the previous year), with Masina taking home the Best Actress Award at Cannes. Screenplay by Fellini and his longtime collaborators Ennio Flaiano and Tullio Pinelli. Cinematography by Dino De Laurentiis. Music by Nino Rota.
"Featuring brand new subtitles by Bruce Goldstein, with Fiamma Arditi and Adrienne Halpern as consultants, an update of the 1998 titles by Goldstein and Giulia D'Agnolo Vallan.
"The 4K restoration from Studiocanal and TF1, made at the L'immagine Ritrovata Laboratory in Bologna, was originally created for Fellini 100, celebrating Fellini's centennial year in 2020, but postponed due to the Covid-19 pandemic. The director was born January 20, 1920."
more info at this website: rialtopictures.com
In Italian
Subtitled