The White Sheik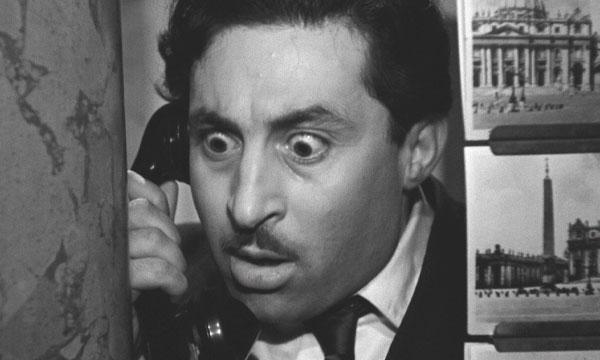 Federico Fellini drew upon his background as a cartoonist for his first solo feature, a charming comic fable about the lure of fantasy and the pitfalls of temptation. In Rome for her honeymoon, a wide-eyed newlywed sneaks away from her straitlaced groom and goes in search of the White Sheik, the dashing hero of a fumetti (a photographed comic strip popular in Italy) of which she is enamored—but soon discovers that her romantic ideal may be only an illusion.
Featuring a memorable appearance by Giulietta Masina (playing the character she would reprise in Nights of Cabiria) and Fellini's first collaboration with composer Nino Rota, The White Sheik finds the director already taking up one of his favorite themes: the alchemical interplay between life and art, imagination and reality. "…a comic fable of mass-produced fantasy and fanatical devotion." (NY Times)
"Fellini is essentially a small-town boy who's never really come to Rome. He's still dreaming about it. And we should all be very grateful for those dreams." (Orson Welles)
"And best of all, the circus-like strains of Nino Rota are accompanying this farce, helping to define the essence of Fellini's art in its first full-blown expression." (Jonathan Rosenbaum)
4K restoration by Fondazione Cineteca di Bologna, in collaboration with RTI-Mediaset and Infinity, as part of Fellini 100. Restored from the original camera negative. Soundtrack negative provided by Studio Cine. Restoration carried out at L'immagine Ritrovata laboratory, Bologna.
more info at this website: www.rialtopictures.com/catalogue/the-white-sheik
In Italian
Subtitled