War and Peace: Chapter II, Natasha Rostova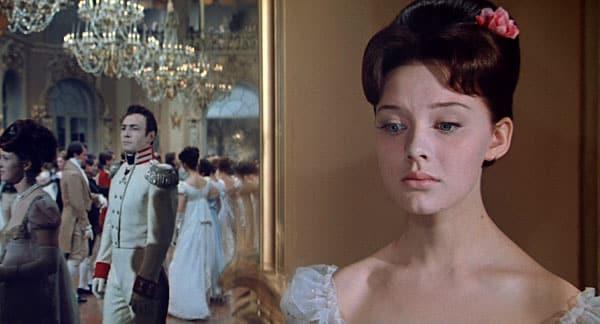 A virtually unlimited budget, featuring authentic props and costumes borrowed from Russia's great museums, and thousands of extras from the Soviet army, Sergei Bondarchuk's adaptation of War and Peace is unlike any movie either before or since! At the height of the Cold War, the Soviet film industry set out to prove it could outdo Hollywood with a production that would dazzle the world: a titanic, awe-inspiring adaptation of Tolstoy's classic tome in which the fates of three souls—the blundering, good-hearted Pierre; the heroically tragic Prince Andrei; and the radiant, tempestuous Natasha—collide amid the tumult of the Napoleonic Wars. As a statement of Soviet cinema's might, War and Peace succeeded wildly, garnering the 1969 Academy Award for Best Foreign-Language Film; its rococo beauty and breathtaking battles overwhelm with their expressionistic power. The true budget of the film is unknowable (estimates peg the film at over $700 million, adjusted for inflation) but it's the blinding vision of Bondarchuk's adaptation that truly stands out.
"You are never, ever, going to see anything to equal it." (Roger Ebert)
Screening in four bingeworthy parts! Catch all four on Sunday, November 3
Each part is a separate admission, but an All-Access Pass grants free admission to them all!
website: janusfilms.com/films/1909
WAR AND PEACE - RESTORATION TRAILER from Janus Films on Vimeo.