Uppercase Print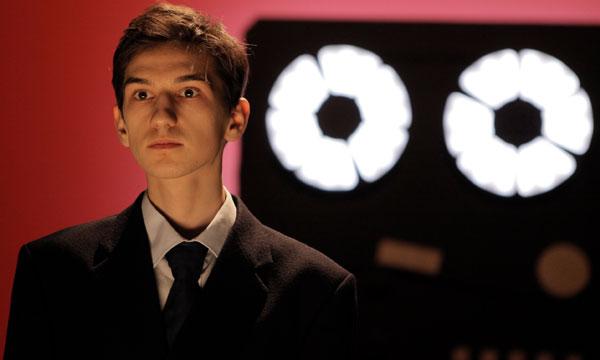 In 1981, chalk slogans written in uppercase letters started appearing in public spaces in the Romanian city of Botoşani. They demanded freedom, alluded to the democratic developments taking place in Romania's socialist sister countries or simply called for improvements in the food supply.
The culprit was Mugur Călinescu, a teenager who was still at school at the time and whose case is documented in the files of the Romanian secret police.Theatre director Gianina Cărbunariu created a documentary play based on this material.
Besides presenting the play, Radu Jude also uses archival footage from Romanian TV of the era. Cooking shows alternate with interrogations, transcripts of wiretapped phone calls with recommendations to exercise instead of taking sedatives. This dialectical montage creates an image of a dictatorial surveillance state, drawing on the authorized popular entertainment of the Ceaușescu regime in order to unmask it.
Richard Brody of The New Yorker listed it as one of the Best Films of 2021, stating "Uppercase Print expands the practice of nonfiction filmmaking into ingeniously imaginative dimensions… Jude, with his multiple dimensions of inquiry and imagination, poses philosophical questions about conscience and consciousness, media consumption and social order, that reach far beyond the case and era at hand to challenge the deceptions and delusions of ostensible present-day democracies."
more info at this website: www.bigworldpictures.org/films/uppercaseprint/index.html
In Romanian
Ithaca Premiere
Subtitled