Sundance Shorts 2021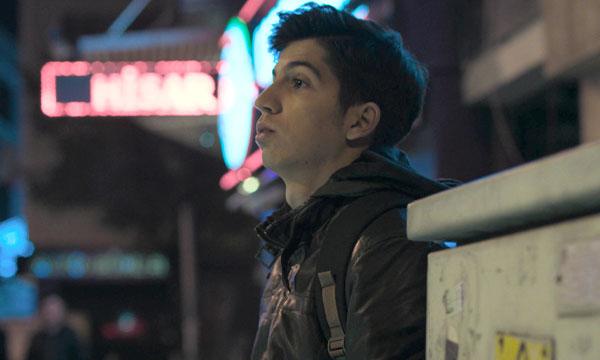 The 2021 Sundance Film Festival Short Film Tour consists of 7 short films selected from the 2021 Sundance Film Festival program, widely considered the premier showcase for short films and the launchpad for many now-prominent independent filmmakers for close to 40 years. Including fiction, documentary and animation from around the world, the 2021 program offers new audiences a taste of what the Festival offers and shows that short films transcend traditional storytelling.
Program
BJ's Mobile Gift Shop / U.S.A. (Director and Screenwriter: Jason Park) (Fiction)
A young Korean-American hustler runs throughout the city of Chicago making sales out of his "mobile gift shop."
Jason Park was born and raised in the city of Chicago, and pursued filmmaking after a year of missionary work on the island of Palau. He's made several short films that have played in numerous international film festivals and has been selected for programs like Film Independent's Project Involve and the Sundance Institute Screenwriters Intensive. He currently resides in Los Angeles, where he is developing his first feature film.
Black Bodies / Canada (Director and Screenwriter: Kelly Fyffe-Marshall) (Fiction)
A Black man laments as he comes face-to-face with the realities of being Black in the 21st century.
Kelly Fyffe-Marshall is a director, screenwriter, and social activist whose work includes award-winning short film Haven (2018) and two-part short film Black Bodies and Marathon (2020). Marathon was released online and has amassed more than 25,000 views. Black Bodies was selected for the 2020 Toronto International Film Festival and awarded the Shawn Mendes Foundation Changemaker Award for social change through film.
The Criminals / France, Romania, Turkey (Director and Screenwriter: Serhat Karaaslan) (Fiction)
In a town in Turkey, a young couple is looking for some privacy. They are rejected from the hotels because they do not have a marriage certificate. When they think they found a way, the situation gets out of hand. The Criminals received the 2021 Sundance Film Festival Special Jury Prize for Writing.
Serhat Karaaslan has directed one feature film and several shorts. His short films were screened and awarded in major festivals like the Toronto International Film Festival and Festival del film Locarno. His debut film, Passed by Censor (Cannes Cinéfondation Residence), premiered at the 2019 Karlovy Vary International Film Festival, where it received the critics award, and won several awards at festivals around the world.
KKUM / South Korea, U.S.A. (Director and Screenwriter: Kang-min Kim) (Animation)
My mother's dreams have always been strong premonitions for important moments in my life. I rely on her dreams more than any religion.
Kang-min Kim was born in Incheon, South Korea, in 1979. In 2011 he graduated from the California Institute of the Arts. He is currently working as a freelance artist.
To Know Her / U.S.A., Hong Kong (Director: Natalie Chao)  (Non-fiction)
A poetic exploration of the camera's gaze and a family's relationship with the filmmaker's mother.
Natalie A. Chao is a filmmaker and cinematographer who completed her bachelor's degree in film production at University of Southern California. Born, raised, and currently based in Hong Kong, she is interested in bridging the gap between realism and poetry in order to tell stories through a more engaged and intentional gaze—one that can map out our memories, not drawing lines between camera and subject, identity and politics. She is currently a 2020 Sundance Ignite x Adobe Fellow.
White Wedding / U.S.A. (Director and Screenwriter: Melody C. Roscher) (Fiction)
Amidst a racially tense Southern wedding, a biracial bride has the chance to confront her estranged Black father after accidentally hiring his wedding band to perform.
Melody C. Roscher hails from Richmond, Virginia, and New York City, and she is developing her feature directorial debut, Bird in Hand. In addition to directing, she's half of the producing team The Wonder Club, with Craig Shilowich. Together, they are producing Robin Comisar's upcoming feature Great Choice. Roscher recently produced Christine, James White, Creative Control, and Simon Killer, as well as line-producing HBO's The Jinx.
Wiggle Room / U.S.A. (Directors and Screenwriters: Sam Guest, Julia Baylis) (Fiction)
Determined to save her wheelchair ramp from repossession, Daisy confronts the shady insurance agent who owes her money. Wiggle Room received the 2021 Sundance Film Festival Special Jury Prize for Acting.
Sam Guest and Julia Baylis are an American-Canadian directing duo who collaborate under their production company Anarene Films. Their projects have been featured on Dazed, The FADER, and NPR. Wiggle Room is their first narrative film.
Ithaca Premiere • Subtitled
2021 Sundance Film Festival Short Film Tour - official trailer from Sundance Shorts Tour on Vimeo.