Sundance Film Festival Short Film Tour 2020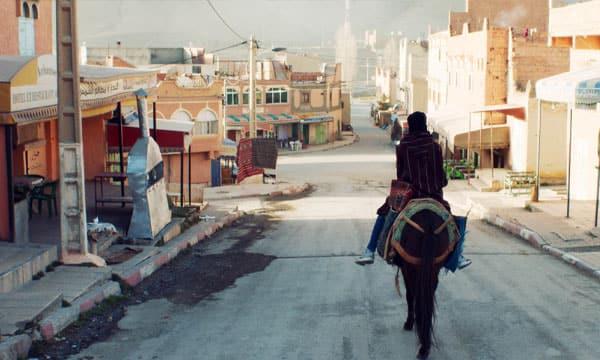 We have SOLD OUT of our allotment of free tickets for this program!
This virtual edition of the Sundance Film Festival Short Film Tour is comprised of six short films selected from this year's Sundance Film Festival. Widely considered the premier American showcase for short films and the launchpad for many now-prominent independent filmmakers for more than 30 years, the Short Film Tour includes fiction, documentary and animation from around the world, giving new audiences a taste of what the Festival offers. "A fascinating mix of drama, comedy, animation and documentary, telling stories of Christian prophesy, menopause, grief, hunger and goats — lots of goats." (moviecricket.net) Please note: there is some mature content, animated nudity, and a strobe effect in one film.
Descriptions from the blog at moviecricket.net:
Benevolent Ba, written and directed by Diffan Sina Norman, shows a Muslim family in Malaysia, who have driven to fulfill the mother's wishes of having a goat humanely slaughtered by Muslim halal protocols. Somehow, Michael Jackson's "Thriller" is also involved in this quick, frenetic comedy.
Hot Flash, by Canadian director-writer Thea Hollatz, shows a TV weather forecaster dealing with a snowstorm and menopausal hot flashes at the same time. Animated, but definitely not for kids, this one's funny, shocking and charming in equal measure.
The Deepest Hole, writer-director Matt McCormick's cleverly surrealist documentary encompasses the Cold War, conspiracy theorist Art Bell, opportunistic televangelists, and the story of the race to bore a hole through the earth's crust. (Warning: McCormick uses some strobing effects during this film, so if you're sensitive to that sort of thing, close your eyes for a minute or two and just listen.)
Meats is essentially a filmed monologue by writer-director-actor Ashley Williams, as a pregnant vegan trying to rationalize her desire to butcher a whole lamb. Williams—who played Jim Gaffigan's wife on his TV show and does a lot of Hallmark Channel Christmas movies (and, in real life, is sister to Kimberly Williams-Paisley)—pours a lot of humorous angst into nine minutes.
T is director Keisha Rae Witherspoon's tender, eye-opening documentary about Miami's T Ball, in which people model T-shirts and elaborate costumes to honor people in their lives who have recently died. Witherspoon follows three participants of the ball, collecting heartbreaking stories and memories that make the people telling them smile.
So What If the Goats Die?, this year's Grand Jury Prize winner for shorts, is the standout of this program. Writer-director Sofia Alaoui goes back to her home country, Morocco, for this engrossing story of a goatherd who rides into town, only to find everyone has disappeared. Is it the end of the world? That's one of the questions Alaoui's spare, compelling story considers, with intelligence and heart.
website: www.sundance.org/festivals/short-film
Ithaca Premiere • Subtitled