Pebbles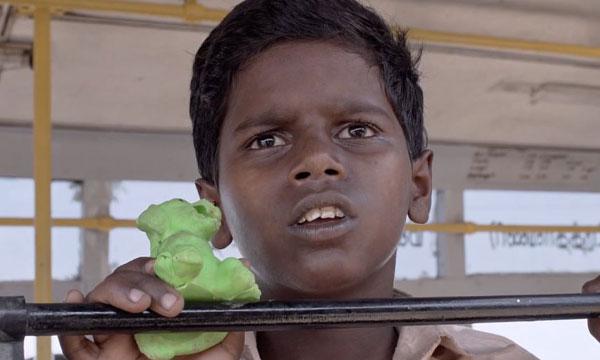 The New Yorker calls first-time filmmaker P.S. Vinothraj "an extraordinary observational filmmaker," and his debut film, about a hot-tempered, alcoholic father who drags his reticent son to a distant village to fetch back the wife whom he had chased away with his abuse, shows an undeniable new talent in global cinema.
Winner of the Tiger Award at the International Rotterdam Film Festival, and India's submission for Best International Feature Oscar, Pebbles is a "battle of wills against a backdrop of drought and poverty, grounded…in unforgettable local detail and a strong pictorial sense that never has to choose between realism and lyricism." (Screen Slate) The film is nominated for an Independent Spirit Award for Best International Film.
Set in Tamil Nadu in southern India, Pebbles tells the economical story of an impoverished, alcoholic man named Ganapathy (played by revered stage actor Karuthadaiyaan), fueled by bottomless reservoirs of rage while on a mission with his young son to retrieve his wife, who has left him on account of his abusive behavior. The 13 kilometer trek through the desert is fraught, with Ganapathy and his son Velu walking along sunbaked plains and dirt paths, encountering along the way the people who live in this desolate region, whose briefly glimpsed lives illuminate a complex view of this remote society.
"Taking a simple premise with all the focus and penetration of a perfectly constructed short story, [P.S. Vinothraj] transforms the drama of a young boy dragged between villages by his abusive alcoholic father into a larger, unforced statement about toxic patriarchy, limited resources, and the silent, enduring place of women as enablers of life." (Variety)
Cosponsored by the South Asia Program.
In Tamil
Ithaca Premiere
Subtitled