Oscar Shorts: Animation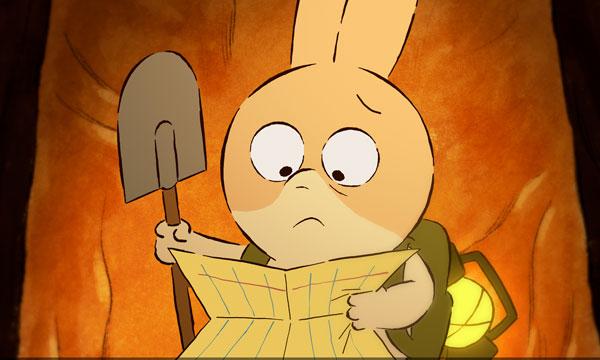 $12 per view; $30 to watch all three Oscar Shorts programs. Purchase your screenings through this link.
For the 16th consecutive year, ShortsTV and Magnolia Pictures present the Oscar-Nominated Animated Short Films. This is your annual chance to predict the winners (and have the edge in your Oscar pool)! A perennial hit with audiences around the country and the world, don't miss this year's selection of shorts. The Academy Awards take place Sunday, April 25th.
Burrow (USA, 6 min.) Director: Madeline Sharafian; Synopsis: A young rabbit embarks on a journey to dig the burrow of her dreams, despite not having a clue what she's doing. Rather than reveal to her neighbours her imperfections, she digs herself deeper and deeper into trouble.

Genius Loci (France, 16 min.) Director: Adrien Merigeau; Synopsis: One night, Reine, a young loner, sees among the urban chaos a moving oneness that seems alive, like some sort of guide.

Opera (USA, 9 min.) Director: Erick Oh; Synopsis: Written and directed by award-winning filmmaker and former Pixar animator Erick Oh, 'OPERA' is an animation project that can be defined as a contemporary animated edition of the Renaissance fresco mural paintings.

If Anything Happens I Love You (USA, 12 min.) Director: Michael Govier/Will McCormack; Synopsis: Grieving parents struggle with the loss of their daughter after a school shooting. An elegy on grief.

Yes-People (Iceland, 8 min.) Director: GÍsli Darri Halldórsson; Synopsis:One morning an eclectic mix of people face the everyday battle, such as work, school and dish-washing. As the day progresses, their relationships are tested and ultimately their capacity to cope.
PLUS A SELECTION OF ADDITIONAL ANIMATED SHORTS (from the AMPAS shortlist):
Kapaemahu (USA, 8 min.)
The Snail and the Whale (UK/Germany, 26 min.)
To Gerard (USA, 7 min.)
Rated: PG-13. The program overall, while excellent, deals with some tough issues and a few of the films are not suitable for children under 12.
For more information & trailers for all the nominated films: shorts.tv/theoscarshorts