Melancholia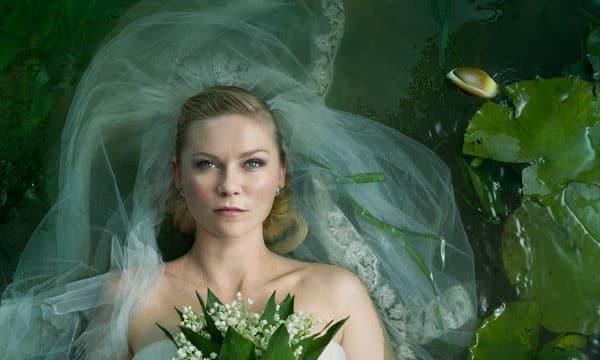 Ever since the audience divider that was Antichrist, it seems enfant terrible Lars von Trier hasn't been the most popular elephant in the theater. By the same token, one can hardly deny that with Melancholia the Danish auteur might very well have given us one of the most provocative masterpieces of the decade. Starring Kirsten Dunst as the eponymously afflicted Justine and Charlotte Gainsbourg as her sister Claire, the film waters the seeds of their sibling rivalry with intimations of apocalypse as a mysterious planet comes hurtling toward Earth.
The beauty of Melancholia lies in its deft balance of spectacle and intimate characterizations. The blatant nod to Hollywood disaster films is as artful as a nod can be, and the focus is on the emotional lives of its characters in the grander scheme of things. The film also makes an intriguing companion to Terrence Malick's The Tree of Life. Yet where the latter looks deeply inward in search of answers, Melancholia looks skyward toward an impossible future. The all-star cast brings a wealth of nuanced experience to the table—quite literally in the film's opening wedding banquet—and only enhances the stunning cinematography and Wagnerian soundtrack.
We've included the film in our Garden Cinema series as it pays homage to the classic garden film, Last Year at Marienbad. Manohla Dargis of the New York Times writes about the connection here, describing a particular scene in Melancholia:
"A long, overhead shot of a green lawn flanked by two parallel rows of teardrop-shaped bushes, a stretch of water at the top of the shot and a large sundial centered at the bottom. The shot evokes the famous garden in Alain Resnais's Last Year at Marienbad (1961) with its topiary, statues and human figures, which alone cast shadows. Of Mr. Resnais's work the novelist and filmmaker Alain Robbe-Grillet, who wrote Marienbad, said: 'In it I recognized my own efforts toward a somewhat ritual deliberation, a certain slowness, a sense of the theatrical, even that occasional rigidity of attitude,' which, he added, 'suggest both a statue and an opera.' This fits Melancholia too."
Cosponsored with the Dept of Romance Studies.
website: melancholiathemovie.com