The Golem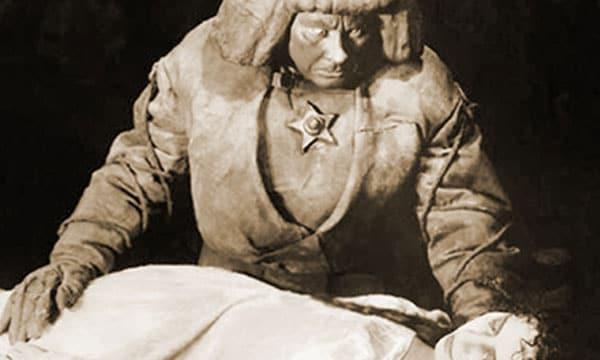 "The legend of the Golem, a creature made from clay by Rabbi Loew in 16th century Prague to defend the Jews in the ghetto against pograms, was filmed several times. Paul Wegener codirected and acted in a 1914 version as well as another in 1917. This is his most ambitious version, made with all the resources of the Ufa studio. The 'monster without a soul' terrifies the multitudes, rebels against his creator, falls in love iwth the Rabbi's daughter, and is destroyed when a child removes the Star of David from his chest. The enormous looming sets by Hans Poelzig were inspired by the medieval architecture of Prague. Special lighting and the composition of crowd scenes contribute to the haunting atmosphere of this fantasy. The hulking figure of the Golem, played by Wegener, influenced the portrayal of the monster in Frankenstein." (MOMA)
Shown in a new digital restoration with live accompaniment performed by legendary guitarist Gary Lucas (garylucas.com), who will reprise the score he wrote for the film over 30 years ago. Lucas was a member of the cult group Captain Beefheart Magic Band and formed his own band Gods and Monsters in 1989. He has collaborated with Leonard Bernstein, Jeff Buckley, John Cale, Nick Cave, David Johansen, and Lou Reed. This past summer he was invited by NYC art house cinema The Metrograph to present a retrospective of his many live film scores accompanying classic films both silent and sound, including The Golem.
4K restoration by the Friedrich-Wilhelm-Murnau-Stiftung, Wiesbaden, in cooperation with the Royal Film Archive of Belgium. With the assistance of L'Immagine Ritrovata and George Eastman Museum. Restoration supervised by Anke Wilkening.
Cosponsored with the Jewish Studies Program, the Cornell Council for the Arts, the Dept of German Studies, the Institute for German Cultural Studies & the Wharton Studio Museum.
website: kinolorber.com/film/thegolem
Gary Lucas Plays "The Golem" from Gary Lucas on Vimeo.