The Goddess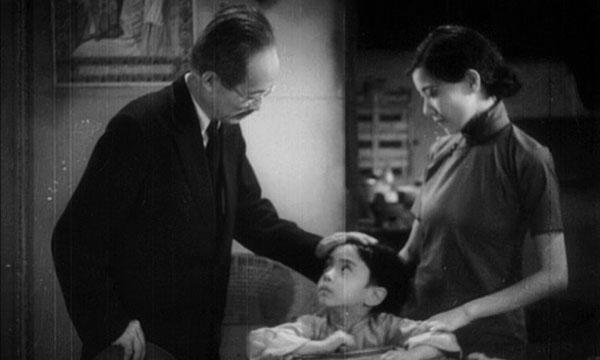 Open to the general public! See Special Notes for details!
A masterpiece of Chinese cinema's silent era, this heart-wrenching tale of a single mother who works as a prostitute so she can afford an education for her young son stars legendary actress Ruan Lingyu, who tragically died by suicide at the age of 24.
"Key Second Generation director Wu Yonggang brings both an unsparing eye and a gentle humanism to this exceptional film, never flinching from the realities and consequences of the heroine's work but never judging her for resorting to what was (and is) a relatively normal profession. But Ruan's luminous performance and presence is the true crux of the film: scholars Chris Berry and Mary Farquhar consider her character in The Goddess, 'a remarkable condensation in one figure of different aspects of the times,' including Confucian family devotion, gender, national identity, the new complexities of capitalism, and Ruan's own scandalous off-screen image (as brilliantly depicted in Stanley Kwan's 1992 Ruan biopic Center Stage)." (UCLA Film & Television Archive)
[Center Stage, starring Maggie Cheung as Ruan Lingyu, will be shown on October 28 & 31.]
In The Goddess, director "Yonggong's juxtaposition of Shanghai's glitzy, Art Deco skyline with a portrait of wretched street-level existence highlights the disparities suffered by the masses during a time of foreign occupation and domestic unrest." (Museum of Modern Art)
The Performers
The film will be accompanied live by Min Xiao-Fen, a virtuoso on the Chinese stringed instrument pipa, and guitarist Rez Abbasi. "The music [Min Xiao-Fen] has written draws from across the spectrum of Chinese heritage, including references to Tibetan chants as well as other folk forms, while remaining in contact with her jazz influences." (NY Times)
Few artists have done more to both honor and reinvent the 2000-year history of the pipa, a Chinese lute, than renowned soloist, vocalist and composer Min Xiao-Fen. She uses her classical training in the instrument as a foundation to explore new sounds, traversing the worlds of jazz, experimental, and new music. She is known for her interpretation of the music of Thelonious Monk in her album Mao, Monk and Me, and has collaborated with John Zorn, Wadada Leo Smith, and Björk, among others.
Joining her is the equally versatile and adventurous guitarist Rez Abbasi, who creates dialogues between jazz and South Asian traditions. Abbasi was voted #1 Rising-Star Guitarist in the 2013 DownBeat Critics Poll and subsequently recognized as a "Top-Ten Guitarist," alongside luminaries Bill Frisell and Pat Metheny. Abassi has recorded with many jazz greats. He became a Guggenheim Fellow in 2021.
The two musicians' collaboration on The Goddess was recently released on the album White Lotus, which will be available for sale at the screening, and were interviewed on NPR's Weekend Edition. You can listen to that interview here.
Cosponsored with the Cornell Council for the Arts, the Dept of Performing & Media Arts (PMA), the Dept of Music, the East Asia Program, Asian Studies and the Wharton Studio Museum.
Please note: we will be screening a digital, 82-minute version of the film from the China Film Archive.
Shown as part of, but in advance of, the inaugural National Silent Movie Day (September 29), dedicated to celebrating, preserving, and creating access to silent movies. For more info, visit nationalsilentmovieday.org.
website: www.cinema.ucla.edu/events/2013-10-26/goddess-china-1934-new-women-china-1935
with English language intertitles