Farrebique, or the Four Seasons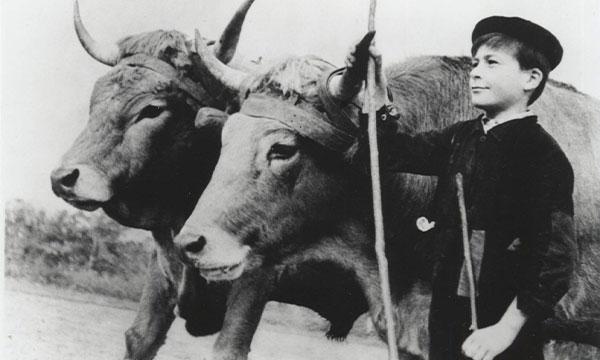 A portrait of the Rouquier family, cousins of the director, who lived in the farming community of Aveyron in South-central Franc, filmed over an entire year. Like legendary documentary filmmaker Robert Flaherty, Rouquier worked with non-professional performers—in this case, farmers—who acted out staged sequences that corresponded to events in their own lives. The film is considered a classic of its kind.
"Rouquier's film is only superficially a documentary. He punctuates the film with time-lapse sequences that show crops growing and flowers blooming, macrophotographic sequences that show blood pumping in arteries and cellular reproduction. He blends the drama of social life in and around the farm—and the cycle of seasons that governs it—with biological analysis. The movie's central sequence—a visual reconstruction of a century of Farrebique's history from the family's perspective, as narrated by the grandfather to his grandson Raymondou—is a virtual evolutionary account of the growth of a farm." (Richard Brody, The New Yorker)
Farrebique was the first film to win the FIPRESCI (Fédération Internationale de la Presse Cinématographique / International Federation of Film Critics) Prize (along with David Lean's Brief Encounters) at the very first Cannes Film Festival in 1946. (In)famously the film showed out of competition, the selection committee rejected it, with one member stating "I don't consider cow dung to be photogenic material." 
William Gilcher, a former director of Cornell Cinema, with the assistance of John Weiss (Associate Professor, Emeritus, History), invited Rouquier to Cornell in the late '70s and subsequently produced Rouquier's Biquefarre (screening Oct 7). He authored the essay "From Georges Rouquier's Farrebique to Biquefarre: The Rhetoric of Poetics and the Poetics of Rhetoric" included in Catherine Fowler's anthology, Representing the Rural: Space, Place, and Identity in Films about the Land (Detroit: Wayne State Univ., 2006).
Film digitized and restored by Eclair with the support of CNC. Restoration in 2K based on the negative nitrate. Coordination and monitoring by Cristina Martin at Les Documents Cinématographiques.
In Occitan (a Provençal dialect).
Cosponsored with the French Studies Program.
Restored • Subtitled