Wild Relatives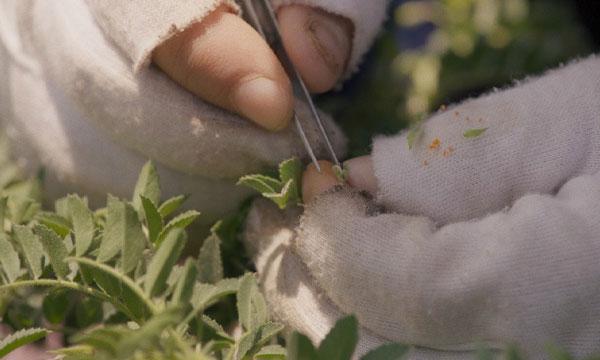 We have SOLD OUT of our allotment of free tickets for this program!
Deep in the earth beneath the Arctic permafrost, seeds from all over the world are stored in the Svalbard Global Seed Vault to provide a backup should disaster strike. Wild Relatives starts from an event that has sparked media interest worldwide: in 2012 an international agricultural research center was forced to relocate from Aleppo to Lebanon due to the Syrian Revolution turned war, and began a laborious process of planting their seed collection from the Svalbard back-ups. Following the path of this transaction of seeds between the Arctic and Lebanon, a series of encounters unfold a matrix of human and non-human lives between these two distant spots of the earth. It captures the articulation between this large-scale international initiative and its local implementation in the Bekaa Valley of Lebanon, carried out primarily by young migrant women. The meditative pace patiently teases out tensions between state and individual, industrial and organic approaches to seed saving, climate change and biodiversity, witnessed through the journey of these seeds.
In Arabic, Norwegian & English, with English subtitles.
For more information about the film: www.jumanamanna.com/Wild-Relatives
Subtitled • Ithaca Premiere
Panelists:
Rachel Bezner Kerr, Professor of Global Development, Cornell University. She does transdisciplinary research on social, health, environmental and political dimensions of agriculture in Africa. Major themes include agroecology, climate change adaptation, gender and social inequity, food and nutrition security. She has published over 60 scientific articles, in journals such as Proceedings of the National Academy of Sciences, and Agriculture, Ecosystems and Environment. She is a Coordinating Lead Author for the 'food chapter' for the Intergovernmental Panel on Climate Change upcoming report on climate change impacts, vulnerabilities and adaptation. She also co-authored a report on agroecology for the United Nations Committee for World Food Security.
Johanna Sellman, Assistant Professor of Arabic Literature in the Department of Near Eastern Languages and Cultures at The Ohio State University. She received a PhD in Comparative Literature from UT Austin and at OSU she researches and teaches in the fields of modern Arabic literature, migration, translation, and Arab diasporic theatre. Her current book project Speculative Belongings: 21st Century Arabic Literature of Migration in Europe analyzesthe transformations of Arabic migration literature in an era of mobility, displacement, and globalization.
WILD RELATIVES - Trailer from KLE on Vimeo.