Ursula von Rydingsvard: Into Her Own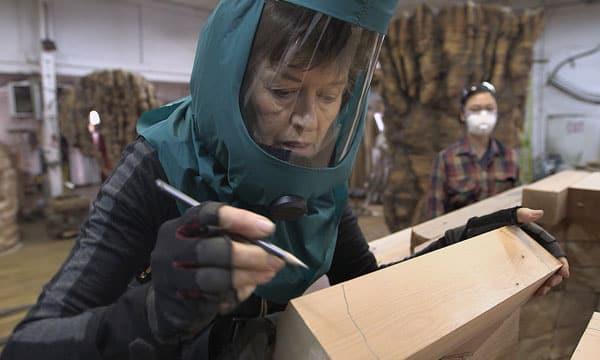 This is a FREE screening with a limited number of complimentary tickets. Please note: we encourage those with a CU NetID to view this film via the CU Library. Those without a CU NetID should RSVP via our virtual-cinema-order-form; you will then be emailed a unique screening link for the film that will be active from Sept 11–17.  
Ursula von Rydingsvard is one of the few women in the world working in monumental sculpture. Her work has been featured in the Venice Biennale and is held in the collections of some of the world's great museums, but she may be best-known for work in public spaces—imposing pieces painstakingly crafted (usually from cedar), with complex surfaces. This artistic biography takes us behind the scenes with von Rydingsvard, as she and her collaborators—cutters, metalsmiths, and others—produce new work, including challenging commissions in copper and bronze. But the film also delves into the artist's personal life, and how it has shaped her work. Born in Poland during the Second World War, she was partly raised in a displaced persons camp and came to the US as a refugee with her nine-person family.
Patricia Phillips, former Chair of the Department of Art at Cornell, is one of the interviewees.
"Eloquent; thoughtful and visually arresting." (Washington Post)
website: icarusfilms.com/if-urs
Ithaca Premiere