The Tragedy of Macbeth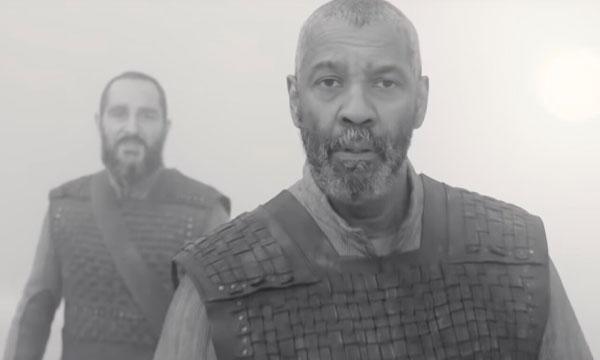 Shakespeare's Macbeth has drawn leading cinema directors, including Kurosawa, Welles and Polanski.
Kurosawa, Polanski and Kurzel (the one with Michael Fassbender and Marion Cotillard) go for the epic, while Welles (a child of the theatre) goes inward. Coen is very much in Welles's footsteps here.
"Furious and fleet, emotional and elemental, Joel Coen's stripped-down take on the Scottish play instantly secures its place among the most audacious modern screen adaptations of Shakespeare.… Denzel Washington and Frances McDormand, leading a superlative ensemble, play not just the ruthless thirst for power but also the anxious race against time to seize their place in history, instead sealing their self-destruction. The Tragedy of Macbeth is a raw, lucid retelling, rendered spellbinding by its enveloping stylized design and its masterful black-and-white visuals, evoking the chiaroscuro textures of Carl Theodor Dreyer." (The Hollywood Reporter)
"It's as cold and weird and lucid as a waking dream, shot in a pristine, magnesium-bright monochrome, and situated on stark, angular sets that melt into abstraction as they approach the edges of the near-square screen.…
"Washington … brilliantly traces the contours of Macbeth's undoing, from ambition to apprehensiveness then down through mounting despair to nihilistic resignation. As Lady Macbeth, who with her husband bloodily conspires to fulfil the witches' predictions, Frances McDormand is his equal, tracing her own distinct but intertwined tragic fall, and half-goading, half-tempting her husband on like a noir femme fatale.
"The couple's ages are integral: Washington and especially McDormand play the plot as a desperate last snatch at power, rather than the actions of a bloodthirsty power couple on the rise. It's villainous, yes —but also skeweringly sad." (The Telegraph)
more info at this website: a24films.com/films/the-tragedy-of-macbeth