Strange Fish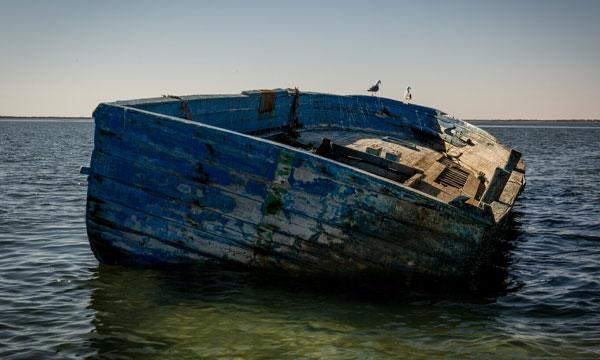 We have SOLD OUT of our allotment of free tickets for this program!
Set primarily in Zarzis, Tunisia, and the waters of the Mediterranean Sea, Strange Fish tells the story of Tunisian fishermen who have been rescuing migrants and recovering the dead along the world's deadliest migration route since the early 2000s. The film's title, a reference to Billie Holiday's "Strange Fruit," links the deaths of African migrants en route to Europe and the lynching of African Americans. In Strange Fish, as the camera moves between images of the sea, fishing livelihoods, and shipwrecks, viewers learn how local fishermen have been affected by and responded to this violence, including their work to maintain a migrant cemetery.
In Arabic & French.
For more information about the film: https://primed.tv/strange-fish/?lang=en
Subtitled • Ithaca Premiere
Panelists:
Giulia Bertoluzzi is a journalist and co-founder of Nawart Press, a collective of independent journalists. Her film Strange Fish, which won the EU's Media Migration award in 2017 and wasreleased in September 2018, has received awards in several international festivals and distribution in cinemas and on television. In 2016/2017, she co-wrote and co-directed Far Right: A New Frightening Normal, a documentary on the rise of the extreme right in Europe, broadcast by Al Jazeera. In 2016, she was nominated for the Doc/IT Women Award at the Venice Festival for A Kurdish Women's Dream. In 2015, Rai Storia broadcast the itinerant project Railway Diaries: A Woman's World, a long reportage on the Silk Road featuring women's voices. In 2014, she collaborated on the documentary film Una storia sommersa(A Submerged Story), which won the Premio Morrione/Ilaria Alpi for investigative journalism.
Amade M'charek is Professor of Anthropology of Science at the Department of Anthropology, University of Amsterdam. She is the PI of the RaceFaceIDproject, an ERC-consolidator project on forensic identification and the making of face and race. Her work centres on the ir/relevance of race in science and society. She has published widely on genetic diversity, population genetics and forensic DNA practices, as well on biomedical practices. Through her current research on forensics and migrant death she has developed an interest into (post)colonial relations, circulations and extractions.
Eleanor Paynter is a Postdoctoral Associate in Migrations with Cornell's Mario Einaudi Center for International Studies. Her research is in the area of critical refugee studies, specializing in asylum, testimony, and migrant rights. She focuses on Africa –Europe migration, with work on the Black Mediterranean and the necropolitics of border control that draws on ethnography and oral history, as well as writing, film, and visual media.
Panel moderator: Natasha Raheja, Assistant Professor of Anthropology at Cornell. Her current writing and film work explores questions of migration and citizenship along the India-Pakistan border.
This screening/discussion is sponsored by Cornell Cinema, Migrations: A Global Grand Challenge (part of Global Cornell), and the Mario Einaudi Center for International Studies.
Strange Fish - Teaser from Giulia Bertoluzzi on Vimeo.