Raining in the Mountain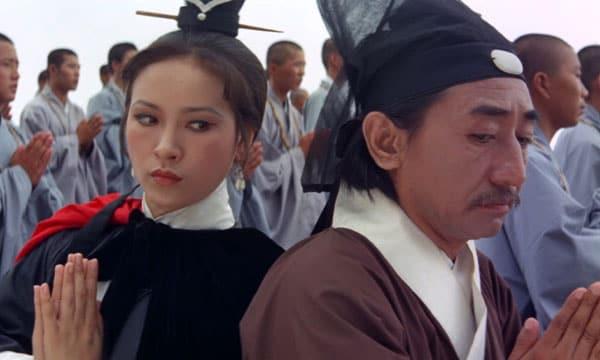 This is a FREE screening with a limited number of complimentary tickets. Please RSVP via our virtual-cinema-order-form; you will then be emailed a unique screening link for the film that will be active from Oct 23–29.
Buddhist spirituality suffuses this restored wuxia (martial arts) masterpiece from King Hu. Rival gangs compete to steal a priceless scroll from a monastery in a caper heist as full of wit as action sequences.
"Synthesizing disparate innovations from pan-Asian action filmmaking... Hu created the new gold standard. It is safe to say that subsequent wuxia, or martial arts films generally, would not look or move quite like they do without him." (ArtForum)
"More than just a remarkably photographed caper heist staged in the most unlikely setting of a serene Buddhist monastery, Raining in the Mountain sets itself apart from the typically action-heavy wuxia genre by a greater emphasis on the intriguing battles of wits and minds. Intentionally muted in its violence, the film's limited fight scenes were masterfully choreographed inspired by the stylistic moves of traditional Peking Opera. In Raining in the Mountain, King Hu delivers an engaging spiritual journey and reflects profoundly on Buddhist philosophy about morals, renunciation, karmic retribution and enlightenment." (Far East Film Festival)
website: filmmovement.com/raining-in-the-mountain
Ithaca Premiere • Subtitled