Peppermint Soda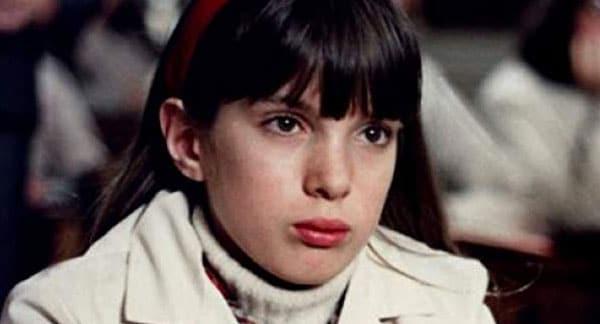 "There's a lot of talk these days about a certain movie about an eighth-grade girl, but allow me to make the case for another film about a girl in the same grade—Diane Kurys's Peppermint Soda… In Kurys's autobiographical 1977 coming-of-age film, set in Paris in 1963 and '64, thirteen-year-old Anne (Eléonore Klarwein) lives with her divorcée mother and older sister, the fifteen-year-old Frédérique (Odile Michel).…. All Anne wants to do is wear pantyhose like the cool girls in school and pass the school year, and then, bam, the growing pains hit, and everything gets intense.
"Whereas Bo Burnham's Eighth Grade boasts a rare authenticity in its depiction of how eighth-graders interact in the digital age… Kurys's girls are of a more aspirational mind. Even Anne, who gazes longingly out of bus windows at her impeccably dressed classmates in tights and red raincoats, is straight out of a sartorial mood board, outfitted in trench coats, ruffled blouses, headbands, beach looks to rival Rohmer girls, and the kind of bangs to which Vogue would dedicate a whole 'French Girl' column. But Peppermint Soda feels timeless and relatable while also specific to its era—Kurys herself was between Anne's and Frédérique's ages in the years the film takes place.
"… Anne, who doesn't quite experience a sexual awakening over the course of the film, has the guidance of a loudmouthed friend who informs her peers that boners can get up to six feet long. Anne's older sister attends the same all-girls school, but they both find trouble in their own ways.… At a time when politics is seen as impolite, Frédérique joins a committee at school to fight fascism. She sells peace-sign badges and gets in a fight with a girl who declares, 'I don't like commies or Jews.' Her mom, meanwhile, tells her to not be so involved ('You're too young'), while her male teacher exclaims, 'No politics in this school! Especially the girls!' We see a growing sense of unrest that the teachers try to squash during the girls' prime years of identity-shaping, a dissatisfaction that anticipates the upheaval France would face in 1968." (Village Voice)
A 40th anniversary 2K restoration.
website: cohenfilmcollection.net/films/peppermintsoda