Los Hermanos/The Brothers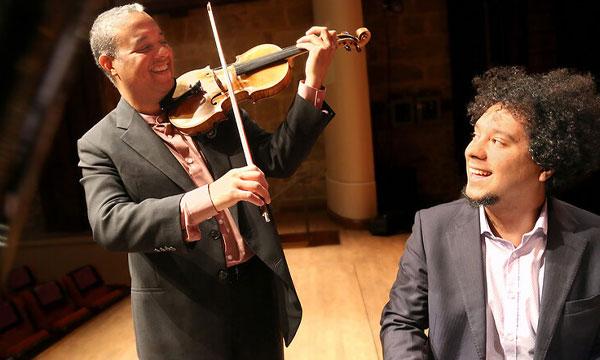 Afro-Cuban brothers violinist Ilmar and pianist Aldo Lopéz-Gavilán were born in Havana to a musical family. At age 14, Ilmar, six years older than Aldo, left with his mother to study in Russia, and eventually settled in NYC, helping to found the Harlem Quartet. Apart from some time studying in London, Aldo has remained in Havana, becoming a noted jazz composer and musician.
The U.S. embargo of Cuba makes reunions between the brothers nearly impossible, until the Obama administration pursues a thaw, and the brothers embark on a musical tour of the states, playing duets, and featuring the Harlem Quartet (and eventually star violinist Joshua Bell), playing Aldo's compositions.
The filmmakers follow the brothers alone and together, in the U.S. and Havana in this "engaging musical documentary." (Movie Nation)
"The directors somehow align their cinematic story with the rhythm of the oceanic currents that rise and fall like great tidal waves lapping at the coasts of Cuba and the U.S.—just 90 miles apart. The climatic moments of the finale take place both in the public arena of stage performance as well as in the intimacy of an absolutely brilliant studio recording that is the apogee of both the film and the exquisite soundtrack that accompanies this masterful film." (LatinJazzNet.com)
"Family is everything to be sure, but a family so thoroughly drenched in a passion for music as the one observed in this ecstatically euphoric documentary—which transcends mere familial bonds, nationalities, chaotic geopolitics, and indeed time itself—is an extraordinary thing." (Austin Chronicle)
In English & Spanish.
website: www.firstrunfeatures.com/loshermanos.html
Ithaca Premiere • Subtitled