John Lewis: Good Trouble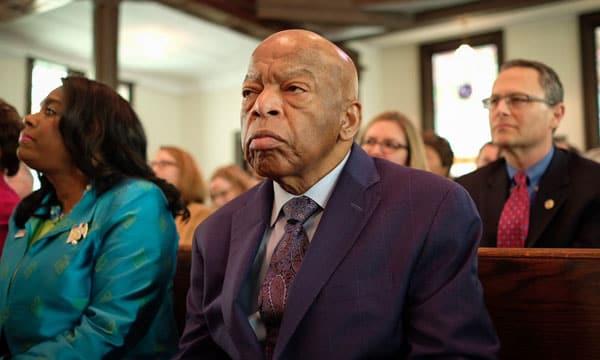 This is a PAID screening available to view here: https://watch.eventive.org/johnlewis/play/5f4fd0a098d3ef00524b2b89 for $6.99, (beginning Sept 10 at 3 am). We regret that we are unable to provide free tickets to this particular film; however, we were able to negotiate a lower rental cost for patrons. A portion of the proceeds will go to Cornell Cinema and help cover the costs of the many free screenings we are offering. Thank you for understanding!
The late, great Civil Rights warrior, Congressman John Lewis is captured late in life reflecting on his decades of activism—from his childhood in Troy, Alabama, to the March on Selma and his three decades in the halls of Congress—accompanied by interviews of his peers and rare archival footage.
"A rambling documentary that freely moves back and forth through time but maintains interest and cohesion by virtue of its subject. The more you watch Lewis, the more fascinating he gets." (SF Chronicle)
"Grown men and women weep upon meeting him. His aides good-naturedly grump about what it's like to try to get the man to a plane on time. Because a walk through an airport might involve 200 stops, requests to shake his hand, pauses for selfies. Congressman John Lewis is one of the most recognizable, most celebrated members of the House, a Democratic icon and an aging lion of America's Civil Rights movement. Even those who demonize him fear him for all the right reasons. Because when the cause is righteous and the need arises, John Lewis knows how to get into 'good trouble.' [D]irector Dawn Porter and CNN put their hometown (Atlanta) 80-year-old Congressman in a chair in front of a large video screen, and… take him through the trials and triumphs of his life." (Movie Nation)
website: www.johnlewisgoodtrouble.com