Isabella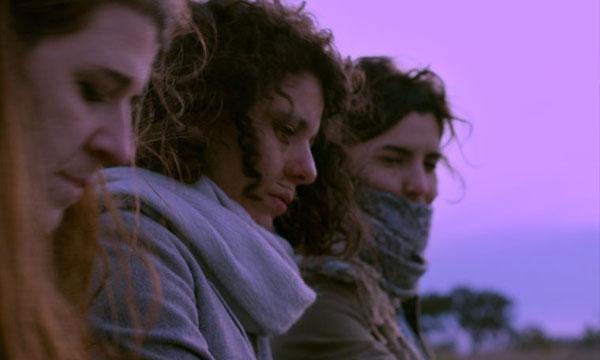 Argentinian filmmaker Matías Piñeiro visited Cornell Cinema in 2014 with Viola, inspired by Shakespeare's character. He continues his growing series of las Shakespeareadas, films loosely inspired by Shakespeare's female heroines, with his latest.
"Isabella is the Argentinian director's latest post-modern spin on Shakespeare, following two women [Mariel and Luciana] who are imperfect reflections of each other as they audition for the part of Isabella in Shakespeare's Measure for Measure." The film skips back and forth through time—"intentionally fragmented—a jigsaw puzzle that never feels complete, a daydream too bright and tactile to feel dreamlike" and is awash in a lush color palette centered on purple, "both a heated red and a tinted blue. Fragility and strength at the same time." (SlashFilm.com)
"The prolific young Argentine director Matías Piñeiro is Shakespeare-obsessed, which is to say that he's also obsessed with theatre and with performance as such, and his new film—centered on a planned production of "Measure for Measure"—leaps through time, and through a variety of plays, with grace, whimsy, and passion. Mariel (María Villar), a thirty-eight-year-old actress in Buenos Aires who's seven months pregnant, auditions for the lead role of Isabella in a staging of the play. It's a strange audition, for which she needs to deliver a personal monologue, and she builds one around an incident that had occurred some time ago, in Córdoba, involving her brother (Pablo Sigal) and his partner (Agustina Muñoz), an actress who's also auditioning for the role. Meanwhile, Mariel has written a personal and surreal play (its striking imagery recurs throughout the movie) about the problem of doubt, even as she herself wonders whether she'll ever act again. Shattering Shakespeare into shards of personal experience, rhythmically repeating scenes and actions in a sort of cinematic music, and catching actors in highly inflected closeups, Piñeiro fuses performance and daily life into a quietly mighty architecture of psychological complexity." (Richard Brody, The New Yorker)
"Piñeiro and his regular players reject traditional approaches to narrative and performance. At its simplest, Isabella is a subjective story of love and loss, a tale of women who desperately want the role of Isabella knowing one of them can not have it. These performers create and collaborate, age and reflect, and are always circling one another as they trace their pasts together even as they are drawn down different paths. In a potent meditation on perspective, Piñeiro creates a gorgeous atmosphere as the actors get lost in their roles, and in one another, beckoning us into the beautiful purple haze with them." (Film Daze)
In Spanish.
website: www.cinemaguild.com/theatrical/isabella
Ithaca Premiere •  Subtitled