Gallery of Monsters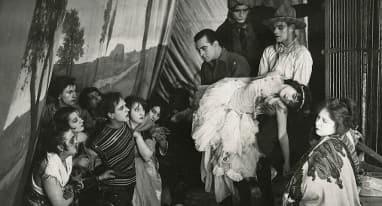 Another amazing circus film gets an Alloy Orchestra score.  Until its recent restoration by Lobster Films in France, Gallery of Monsters was virtually unknown and unseen. Despite the film's title, it's not a horror film. It's an exciting and sometimes tender love story that follows the lives of circus folk, and particularly the loving relationship of Riquet and his wife, Ralda. The "monsters," as the intertitles explain, are the evil circus owner and the lion tamer, whose unwanted advances are refused by the beautiful dancer, Ralda. The cast of characters are the staples of a circus side show – a giant, a little person, a bearded lady, a woman with only half a body, and others – who are sympathetically depicted as a supportive family, and come to the aid of the couple. Excellent cinematography, surreal costumes, and a terrifying lion attack bring this intriguing story to life.
The Alloy's score was commissioned by Indiana University Cinema and the Indiana University Office of the Bicentennial.
Cosponsored with the Cornell Council for the Arts and the Dept of Romance Studies.
website: alloyorchestra.com
The clip below is from the restored version of the film with the Alloy's score.