earthearthearth & more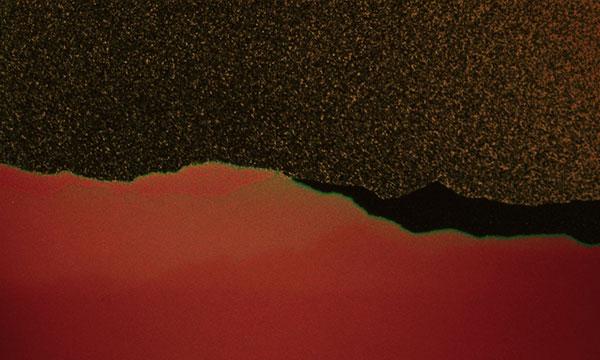 A native of Japan, now based out of Montreal and Ithaca, Daïchi Saïto has been developing his celluloid-based film practice since the early 2000s.
Tonight's program will feature his latest experimental film, earthearthearth (2021, 30 minutes), an otherworldly journey through the Andes mountains in Chile, which had its world premiere at the International Film Festival Rotterdam earlier this year. Produced through strictly analog processes—shot on 16mm, edited on film and blown-up to 35mm—Saïto employed hand-processing, optical and contact printing, solarisation, cross-processing and bi-packing to create the film's "swirling, psychedelic visuals [that] are married to a beautifully undulating soundtrack by saxophonist Jason Sharp, led by emphasis on the composer's own biorhythms (principally breathing and heartbeat)." (Sheffield DocFest)
The film has been selected to screen as part of this Fall's Toronto International Film Festival as well as the New York Film Festival.
It was recently featured in Artforum. Read the article here.
Also on the program
Trees of Syntax, Leaves of Axis (10 min., 35mm, 2009) Winner of the Best of the Festival Award at the 48th Ann Arbor Film Festival and the Jury Grand Prize at the 16th Media City Film Festival, the film was recently named one of the "150 Essential Works in Canadian Cinema History" by the Toronto International Film Festival.
Engram of Returning (19 min., 35mm, 2015) "Accompanied by an extraordinary improvisational score by Jason Sharp, Engram of Returning is an epic 35mm CinemaScope metaphysical travelogue that reveals a supernatural world which pulses and flickers with formal patterns and deep hues. Transforming anonymous found footage into powerful, expressive and painterly imagery, it is a film about memory and recollection, given form through interwoven backward glances at the real, the imagined and the remembered." (International Film Festival Rotterdam (IFFR)) Winner of the Tiger Award for Short Films at IFFR in 2016.
Cosponsored by the Cornell Council for the Arts.
website: lightcone.org/en/filmmaker-1158-daichi-saito
Ithaca Premiere