Detour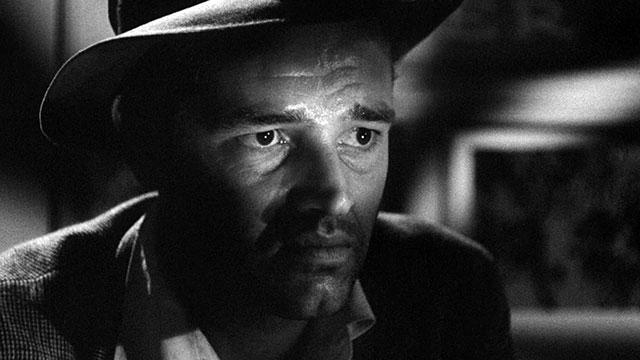 "She's beautiful, but she looks like she's been thrown off a freight train."
And so the nasty, manipulative Vera aligns herself with the crooked path of Al, a luckless fool who's fled his piano gig at the Break-of-Dawn Bar in NYC to follow his fickle ex, Sue, an aspiring starlet caught up in the glitter of Tinseltown.
Edgar G. Ulmer, who developed his expressionist sensibility while working with Murnau on Sunrise, claimed he directed this Poverty Row masterpiece in a mere six days (cinematographer Benjamin Kline said it was 14 camera days on the official production budget). Either way, it was on the cheap, with a budget under $100,000 and an allotment of only 15,000 feet of film stock.
Released to an unresponsive genre market, and later acclaimed by the French New Wavers as a work of genius, Detour distinguishes itself in the crowded film noir period as a story told with unusually cruel economy.
Narrated through a cracked shot glass of flashback, 100 proof, and scripted during a Depression Era hangover that never lifted, it doesn't promise redemption after empty bottles—only delusion, or death... if you're lucky.
Long available only in substandard public domain prints, Detour haunts anew in its first major restoration. Restored by the Academy Film Archive and The Film Foundation in collaboration with Cinémathèque Royale de Belgique, The Museum of Modern Art, and the Cinémathèque Française. Restoration funding provided by the George Lucas Family Foundation.
more info at this website: www.janusfilms.com/films/1906