Alternate Histories with Experimental Animator Kelly Sears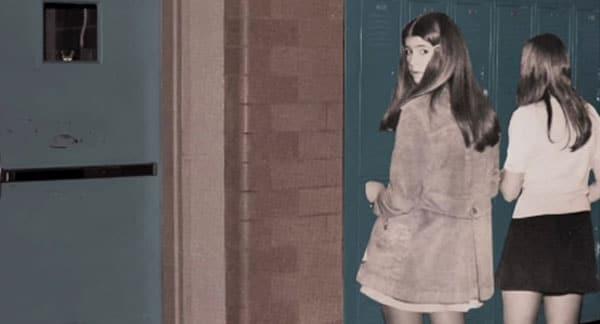 Kelly Sears uses experimental animation techniques to create hybrid works that draw on narrative and documentary elements. She transforms an extensive trove of source materials, such as first aid handbooks, chronicles of space exploration, presidential and military newsreels, 35 millimeter photography manuals, aerobic and yoga guides, archival films, high school yearbooks, and disaster survival guidebooks, into new instructional and advisory texts that may lead the viewer astray and disoriented. Through these animations, we glean bits of history that are recognizable but unsteady.
Sears recasts and reframes American archetypes and institutions to reimagine our own social and political legacy. She views animation as a critical practice; cutting out and collaging as a way to intervene and expand the context of appropriated source materials.  Through combining animated photographic and film documents with speculative storytelling, each of her films contains recognizable cultural narratives that take fictional twists, becoming uncanny or fantastic as history merges with myth.
Read her bio at: https://www.colorado.edu/cinemastudies/kelly-sears
PROGRAM:
A Tone Halfway Between Lightness and Darkness (2015, 7:15 mins)
A Tone Halfway Between Lightness and Darkness is an animated séance conducted through discarded 35MM photography books. These markers of a former life of a consumer photography format return as a meditation on spiritualism and the camera as a medium, using spirit photographer William Mumler's story as a loose point of departure.
The Drift (2007, 8:20 mins)
A mysterious disappearance on a 1960s space journey launches the counter-culture revolution, the government blocks contraband radio broadcasts, and American fervor for conquering space goes too far. Psychedelic Rock, wayward space transmission, underground happenings, the space race, and out of body levitation are part of a condition known as The Drift.
Tropical Depression, (2012, 2:30 mins)
Images from recent hurricanes and the 1931 Miss Universe Contest are collaged into an animated séance that channels Galveston's haunted history.
After Fall, 2018 (2018, 3:15 mins)
A version of how the following year can unfold, put into motion before the confirmation vote [of Brett Kavanaugh] occurs.
Voice on the Line (2009, 6:52 mins)
Enchanting operators, covert government plots, Cold War paranoia and ordinary telephones forever changed how we got in touch with one another. Voice on the Line is a collage animation made from figures cut out of archival ephemeral films from the late 1950s. This animation mixes the history of these films with events of this era which results in a large-scale secret operation that veers bizarrely off course. The film also reflects on current and troubled relationships between the areas of national security, civil liberties and telephone companies. Voice on the Line explores how technology can be used to shape our fears, desires and how we feel connected.
Applied Pressure (2018, 6:20 mins)
Sequential images sourced from dozens of massage books are activated to reflect on recent public conversation from this past year surrounding bodies, massage, and assault. Ease the pain from past physical and mental distress. The body remembers. Aches may linger. Lay prone, breathe deeply, release tension.
The Rancher (2012, 7:00 mins)
Part fact, part fiction, a series of terrible dreams unhinges a man in power.
The Body Besieged (2009, 4:30 mins)
Animated instructional photographs from yoga and workout books reveal bewitched and frenzied bodies and maneuvers. Exercising women move through a possessed psychic space that distorts and mirrors some of our daily routines. Their bodies point to haunted forces may lay behind a fevered sense of wellness.
Once It Started It Could Not End Otherwise (2011, 7:30 mins)
Candid photos from 1970s high school yearbooks resurface in a minimalist horror story.
Pattern for Survival (2015, 6:45 mins)
Pattern for Survival channels the frenetic energy and aggression of security and preparedness. Speculative threats are rendered as routine directives. As you read the rest of this manual, keep in mind the need for a survival strategy.
website: kellysears.com