2023 Sundance Film Festival Short Film Tour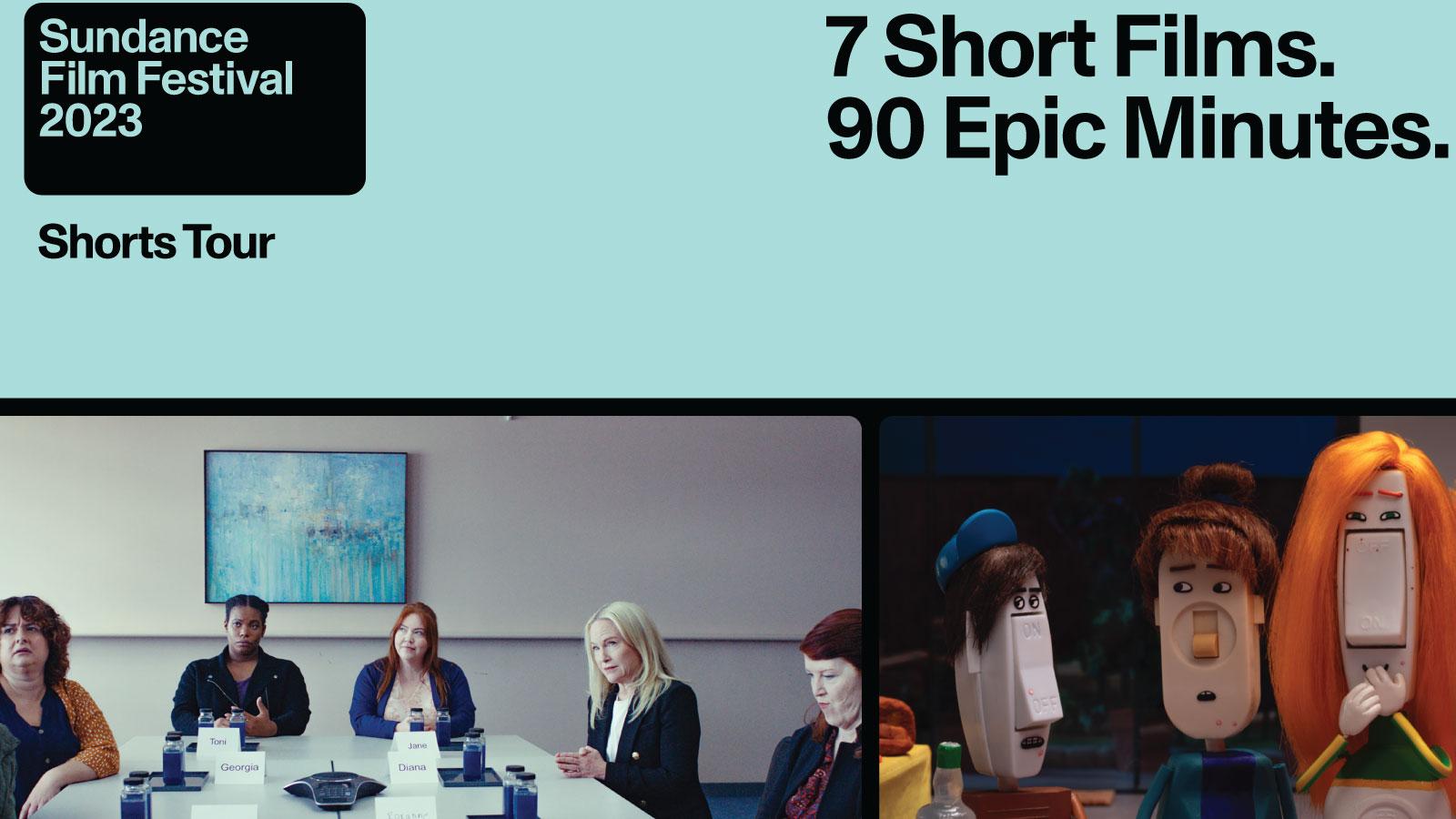 The 2023 Sundance Film Festival Short Film Tour, presented by Shutterstock, is an 90-minute theatrical program of seven short films curated from the 2023 Sundance Film Festival, including two Festival Award-winning titles.
Considered the premier showcase for short films and the launchpad for many now-prominent independent filmmakers, the Festival includes fiction, documentary and animation from around the world. Throughout its almost 40 years of history, the Festival has always supported short films, providing a platform for both established and new filmmakers to connect with audiences and testifying to the unique potential of this storytelling format.
This year's selection features a mix of fiction, documentary, and animated shorts that are funny, sad, inspirational, and full of strong characters.
Program
Help Me Understand  
United States / Fiction
Director and Screenwriter: Aemilia Scott
Producers: Paul Feig, Laura Fischer, Kesila Childers, Erica Fishman, Amy Geist
Six women come to a consensus
Inglorious Liaisons
France/Belgium / Fiction/Animation
Directors and Screenwriters: Chloé Alliez, Violette Delvoye
Producers: Jean-François Le Corre, Mathieu Courtois, William Henne
On the night of a big party for Lucie, Maya, and their friends, Jimmy has also come. Everyone knows he is here for Maya, but does she have the same feelings for Jimmy?
Parker
United States / Non-Fiction
Directors: Catherine Hoffman, Sharon Liese
Producers: Sharon Liese, Funmi Ogunro, Samantha Hake
Three generations of a Kansas City family are finally unified when they do something that countless other Black Americans could not — choose their own last name.
Pro Pool
Canada / Fiction
Director and Screenwriter: Alec Pronovost
Producer: Patrick Francke-Sirois
Newly graduated with a bachelor's degree in history and civilization, Charles-Olivier struggles to find a job in his field and must rely on a clerk position in a pool shop. Feeling down, he navigates his gig as best he can.
Rest Stop
United States / Fiction
Director and Screenwriter: Crystal Kayiza
Producers: Jalena Keane-Lee, Brit Fryer
On a bus ride from New York to Oklahoma, Meyi, a young Ugandan-American girl, realizes her place in the world through her mother's ambitious effort to reunite their family. Winner of the Short Film Jury Award: US Fiction.
Take Me Home
United States / Fiction
Director and Screenwriter: Liz Sargent
Producer: Minos Papas
After their mother's death, a cognitively disabled woman and her estranged sister must learn to communicate in order to move forward.
When You Left Me On That Boulevard
United States / Fiction
Director and Screenwriter: Kayla Abuda Galang
Producers: Alifya Ali, David Oconer, Udoy Rahim, Samantha Skinner
Teenager Ly and her cousins get high before a boisterous family Thanksgiving at their auntie's house in southeast San Diego in 2006. Winner of the Short Film Grand Jury Prize.
About the filmmakers
Aemilia Scott is a filmmaker working in Los Angeles, Chicago, and Berlin. She began in sketch comedy, but over the years her films have gotten longer and less funny. She was a semifinalist for the Academy Nicholl Fellowship in Screenwriting for a feature, and she won a BAFTA LA award for a short. She just finished directing her first TV episode.
Chloé Alliez obtained a master's in animation at La Cambre in 2015. Then, she started working on animation films such as Le petit pirate, directed by Studio TABASS co. Her collaboration with Violette Delvoye began in 2017 with the traveling and collaborative series World in (Stop)Motion. Violette Delvoye obtained her master's in animation at La Cambre in 2016. Then, she started working on different projects as an animator. Her collaboration with Chloé Alliez started in 2017 with the creation of their traveling and collaborative animated series. In 2018, they started the development of the film Inglorious Liaisons.
Catherine Hoffman is an award-winning journalist, documentary filmmaker, and TV host. Hoffman has degrees in documentary journalism, Black studies, and French from the University of Missouri. She currently works for Kansas City PBS, where she's won two Mid-America Emmy Awards for her work documenting social issues and Black history.
Sharon Liese is an award-winning director whose films include The Flagmakers (National Geographic), Transhood (HBO), The Gnomist (CNN Films), and Selfie (Sundance Institute/Dove). Her documentary series work includes Pink Collar Crimes (CBS) and High School Confidential (We TV). She's currently the director and executive producer of a new four-part true crime documentary series for Starz.
Former Club Piscine employee Alec Pronovost left the aquatic world to work as a director and writer. He is the creator behind the series The Killing, as well as the short films Jeep Boys, Tony Speed and Sainte Marie-Josée part en croisade. Pronovost loves fun, rock, and sunny afternoons.
Crystal Kayiza was raised in Oklahoma and is now a Brooklyn-based filmmaker. Named one of Filmmaker Magazine's "25 New Faces of Independent Film," her most recent films include Rest Stop, See You Next Time, and Edgecombe. Her work has screened at Sundance, Toronto International Film Festival, and the MoMA, and has appeared on The New Yorker, STARZ, and PBS.
Liz Sargent is a Korean-American adoptee whose award-winning work explores themes of adoption, disability, and family. As a writer-director, she incorporates her background as a choreographer into visual storytelling that channels complex human emotions that are an extension of her experience as the middle child of eleven and recognize her intersectional identity as an adult.
Kayla Abuda Galang is a second-generation Filipino-American filmmaker exploring themes of home, family, and belonging. Her short films, Joan on the Phone (2016) and Learning Tagalong with Kayla (2021), premiered at SXSW. The latter was an Audience Award recipient. Galang is developing two feature films, '06-'07 and On Earth as it is in Heaven. She is based in Austin, Texas.
film website: www.sundance.org/blogs/the-2023-sundance-film-festival-short-film-tour-is-coming-to-a-theater-near-you
In various languages with English subtitles
Part of our Worth a Watch series.